Visit our Well Newham Hubs
If you'd like to talk to someone face-to-face or get some guidance on how to use the website, you can speak to a Well Newham Advisor at a Well Newham Hub near you.
Call 020 8430 4841 for guidance on where your nearest hub is.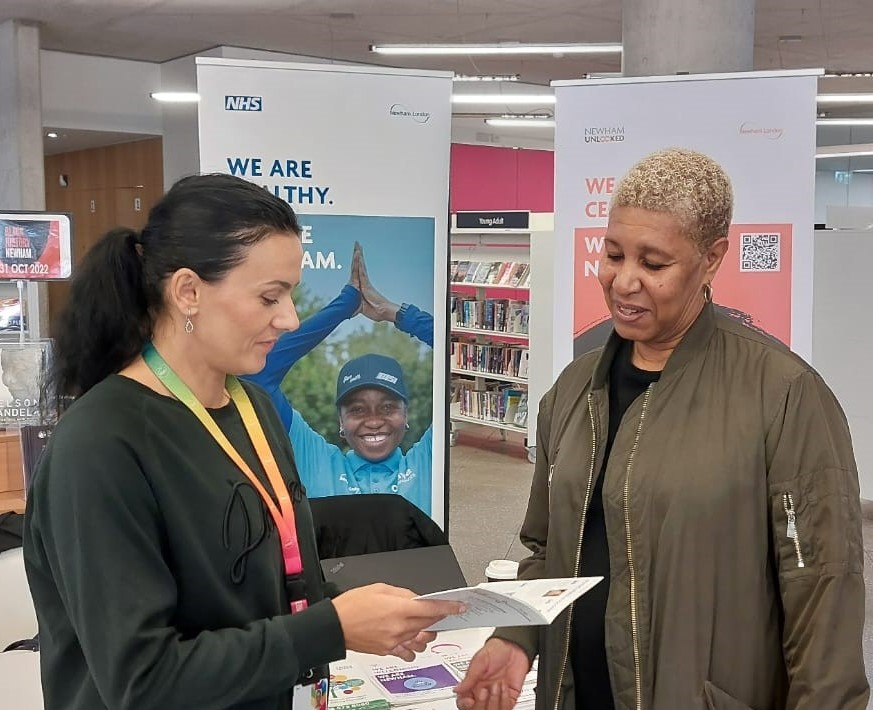 The Well Newham Advisors can help connect you with all the health and wellbeing support you need, as well as developing a personalised wellbeing action plan to help you achieve your goals.
To get help finding your nearest Hub or help to use the Well Newham website, call us on 020 8430 4841 (Mon-Fri 9am - 5pm). 
To talk to one of our friendly Well Newham Advisors just drop in to any of our sessions listed below.
Schedule for 28 November - 3 December 2023.
28 NOVEMBER - 3 DECEMBER 2023
Tuesday

East Ham Library, 10:00-14:00
328 Barking Rd, London, E6 2RT

North Woolwich Library, 10:00-14:00
5 Pier Road, London, E16 2L

Wednesday 

Stratford Library, 10:00-14:00
3 The Grove, London, E15 1EL

Green Street Library, 10:00-14:00
337 Green Street, London, E13 9AR

Thursday 

Manor Park Library, 10:00-14:00
685 Romford Road, London, E12 5B

Friday 

Forest Gate Library, 10:00-14:00
Woodgrange Road, London, E7 0QH

Plaistow Library, 10:00-14:00
North Street, London, E13 9H

EVENTS
Wednesday 29 November

Make Every Contact Count, 10:30-14:30
Stratford Library, 3 The Grove, E15 1EL

Sunday 3 December

The Table of Love and Loss, 13:00-16:30
East Ham Town Hall, 328 Barking Road, E6 2RP
Please note: Well Newham Hub schedule is updated weekly.
If you would like Well Newham Hub Team to attend your event, contact WellNewhamHub@newham.gov.uk
How we store your personal data
We take your privacy very seriously. As part of our service, we use the Joy platform to store your personal data so we can keep up-to-date records about your health and wellbeing in a safe and secure way. 
 
We will not share your data with anyone or any service without your consent. If you decide you do not want your data stored on the Joy platform, you can tell us and we can delete the data permanently. 
 
For more information about the Joy platform and how they commit to storing your data securely, please visit their website or take a look at our privacy notice.